ZANELE MUHOLI + ROBERT HAMBLIN
curated by Francesca de' Medici e Davide Sarchioni
Galleria Il Frantoio - Capalbio Piazza della Provvidenza 10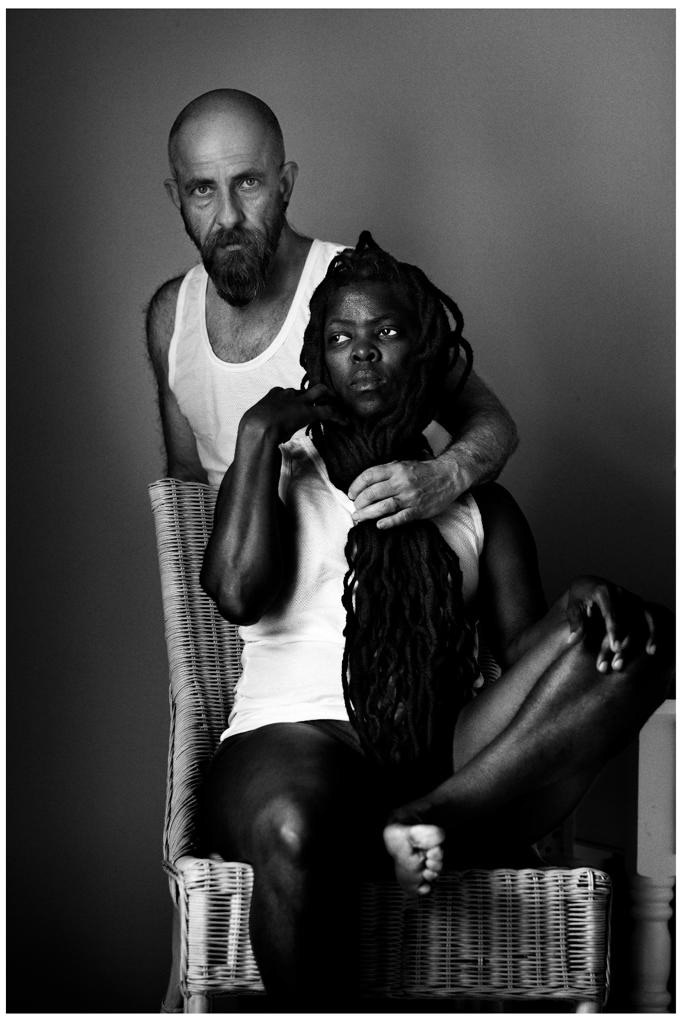 Maria Concetta Monaci, President of Associazione Culturale Il Frantoio, is pleased to present the premiere of the exhibition
TIME WILL TELL. ZANELE MUHOLI + ROBERT HAMBLIN, curated by Francesca de' Medici and Davide Sarchioni. 
Saturday 25 June at 7 p.m. at Galleria Il Frantoio in Capalbio. 
Zanele Muholi and Robert Hamblin are South African artists and activists together for the first time in Italy in an exceptional joint exhibition, which continues the shared intention of both of them to raise awareness and prompt reflection on issues of social, gender and racial discrimination. Ambasciata della Repubblica del Sudafrica di Roma Zanele Muholi (Umlazi, Durban, South Africa, 1972) is a visual activist, humanitarian and photographer whose work – which has been exhibited in some of the world's major museums and at the Central Pavilion in the exhibition curated by Ralph Rugoff at the LVIII Venice Biennale – ranges from photography to video, from painting to sculpture in order to primarily express the plight of black queer women in South Africa. Muholi's activism is directed against the discrimination and violence faced by the LGBTQI+ community in an attempt to "rewrite a black, queer and trans visual history of South Africa so that the world knows our resistance and existence at the height of hate crimes in South Africa and elsewhere" (Zanele Muholi). Robert Hamblin (Hillbrow, Johannesburg, South Africa, 1969) is an activist, artist and photographer who, as a transgender person, focuses on issues related to the body politics of queer and white masculinity highlighting, amongst other things, injustices related to gender identity in South African society. Hamblin lived as a queer woman in the Apartheid era and later as a transgender man. Hamblin's photographic and pictorial works bear full witness to this extraordinary and intimate exploration. Muholi and Hamblin are linked by a strong friendship and understanding, both as artists and as activists, which led them to conceive an exhibition created especially for Capalbio. "Time Will Tell" is a message of hope for everyone: a reminder to commit to working on issues of fundamental importance that could and should change in society, the environment and everyone's country. "Things cannot change overnight," says Robert Hamblin, "only time will tell where things will go, in what direction your work (both artistic and activism) will go. You cannot control the impact of your work: you can only do your work and keep doing it." On display are 60 works, some of them previously not shown before. Above all, self-portraits. Of Muholi, a selection of strictly black-and-white photographs taken between 2009 and 2022 is presented. They are taken from the famous ongoing Faces and Phases series, consisting of portraits of South African black queer women, and from Somnyama Ngonyama: Hail the Dark Lioness, self-portraits of great intensity, in which the artist is coiffed and dressed in clothes, accessories and objects, metaphorically linked to stories of racial and gender discrimination and violence. These are complemented by strongly evocative wallpapers and a new bronze self-portrait from 2022. Emblematic among Muholi's works is the large gelatin silver print photograph Massa + Maids, Hout Bay from 2009, which depicts three black women in an interior dressed as maids (one of whom is portrayed by Muholi) posing with a white man impersonated by Robert Hamblin. Of Hamblin, a large number of self-portraits are on display, many of them executed in ink on paper with an impulsive and at times impetuous gesturality that, although intimately meditated upon, manifests itself as a wholly interior outburst in a wide variety of emotionally moving and engaging images. These are counterbalanced and supported by intense photographic self-portraits in which the artist courageously explores his own male body in all its truth and humanity, immortalised in poses and attitudes that transcend gender prejudices and limitations, revealing the scars of surgery as existential signs and wounds. "Zanele Muholi and Robert Hamblin", writes curator Davide Sarchioni, "have succeeded in transferring, in different ways, their own life stories and experiences into a powerful artistic language that is direct and poetic at the same time, but also layered and dense with emblematic images and profound meanings that slowly surface, subverting the state of things, common thinking linked to cultural legacies, prejudices and customs on gender identity, race and social belonging, to educate about solidarity and diversity, to push towards change a world that, albeit laboriously, is in fact transforming itself. Courageously putting themselves at stake in the first person, their images evoke stories in which we are all involved, indiscriminately, every day and in every place, as protagonists or spectators, and this spurs us to take a conscious, tough and necessary stance, in order to improve and become better." Elevating the entire exhibition project to a further level of interpretation, Hamblin's work finds a connection as metaphorical as it is real with Muholi in the series of unpublished black and white shots taken in 2021 and 2022. They thus find themselves inside hotel rooms and other deliberately anonymous places where their bodies are associated with each other abstracted from reality and intertwined, evoking the intersection of two different individual histories, laden with shared suffering and injustice, to offer the viewer a message of hope, openness and possibility. As the curator Francesca de' Medici explains: "When South Africa began to impose long periods of isolation because of COVID-19, Zanele Muholi and Robert Hamblin, friends since 2006, found themselves each confined to their own homes, unable to do their jobs and live out their vocations as photographers and activists. Muholi and Hamblin began to dialogue on a daily basis, and when Muholi suggested to Hamblin that they do an exhibition together, they turned to me to organise and curate it. I am therefore very happy to collaborate with Galleria Il Frantoio and Davide Sarchioni on this extraordinary project." For the first time, Zanele Muholi and Robert Hamblin have come together for this unprecedented exhibition to create a dialogue between their works in order to launch an appeal and to stir the consciences of an ever-widening public. For both of them, artistic expression is a true political act of awareness-raising in the struggle that they have been strenuously conducting for years, conveying their personal stories to educate about solidarity and diversity, to break down the walls of intolerance and indifference. "I firmly believe in art as a necessary tool to realise processes of cohesion and social change", says Maria Concetta Monaci, "and this is why I am proud to organise and present in the exhibition spaces of Galleria Il Frantoio – together with Francesca de' Medici and Davide Sarchioni – the exhibition by Zanele Muholi and Robert Hamblin, two 'artivists' who have been fighting against social and gender discrimination for a long time, with the desire to provoke profound reflections on a subject that is today more urgent and unavoidable than ever, to inspire our public and above all the new generations. Right now in Italy, in Capalbio, we need to give further strength to a movement for change through this exhibition. Time will tell." The exhibition "TIME WILL TELL. ZANELE MUHOLI + ROBERT HAMBLIN" is organised by the Il Frantoio cultural association, with the support of the Capalbio foundation and under the patronage of the Municipality of Capalbio and the South African Ambassador to Italy. Following the opening of the exhibition, a catalogue will be published with photographs of the works and the exhibition layout, with texts in Italian and English by the curators and other contributions. During the period when the exhibition is open to the public, Il Frantoio will organise meetings, talks and round tables to explore the issues of social, racial and gender discrimination from different angles and in a broader and more transversal manner. Among these, Friday 24 June at 6.30 p.m. will witness the presentation on the Il Frantoio terrace of Robert Hamblin's book Robert. A Queer & Crooked Memoir for the not so Straight or Narrow, published by NB Publishers/ Melinda Ferguson Books.
Artists: Zanele Muholi and Robert Hamblin Exhibition 
Title: Time will tell. Zanele Muholi + Robert Hamblin 
Curated by: Francesca de' Medici and Davide Sarchioni 
Organised by: Associazione Culturale Frantoio
With the support of: Fondazione Capalbio 
Patronage of: Comune di Capalbio and Ambassador of the Republic of South Africa to Italy 
With a grant from: Fondazione Cassa di Risparmio di Firenze 
Technical sponsor: MAG Broker di Assicurazione 
Legal advisor: Studio Santacroce & Partners 
Photographs and fittings: Dimitri Angelini 
Social Media Manager: LaDi Art - Isaco Praxolu 
Catalogue sponsor: Studio Santacroce & Partners 
Press Office: Studio Martinotti 
Dates and times: 25 June to 2 October 2022, Wednesday to Monday from 7 p.m. to 11 p.m. Closed on Tuesdays. 
Inauguration on Saturday 25 June, 7 p.m. 
CONTACTS +39 3357504436 info@frantoiocapalbio.com